There are signs of the fast approaching departure all over the house. Piles of stuff and unfinished projects. Dust bunnies happily hopping in between the moving boxes. Not a room providing a refuge from the hustle.
We are flying off Sunday. Before that, Thursday morning to be exact, the men from the moving company will be marching in to pack up the house.
The last week has been unrelenting. Sorting thru things, running errands, making phone calls, selling or giving away all excess to make our start in California less cluttered. Finishing up with chores at one in the morning, getting five or six hours of exhausted sleep, getting up to start all over again the next day.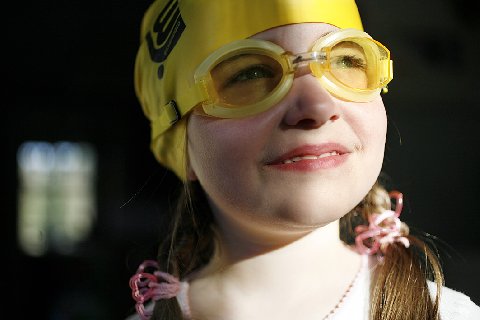 The kids seem relatively unaffected though. Sure, there have been some questions and maybe even a little bit of sadness, but in general they are just excited, looking forward to the flight and meeting up with the cousins on the other continent.
The eldest got to take swimming lessons with the daycare. Like everything else, she approached it with great enthusiasm, excitement and determination. When this girl wants to learn something, nothing stands in her way. Four days of lessons didn't suffice though, she did not learn to swim yet. Such disappointment, but she's convinced that thanks to the California sun, she will get to jump in the pool every day and will soon swim like a fish.
I'm sure of that too. But first we have to get there. A manic day and a half ahead. When the moving truck rolls away, I think we will finally pop open that special bottle of champagne waiting in the fridge.
My next posting will probably be from California. Possibly even with some photos of the excursion to China. I know it sounds mad, but we did not change our vacation plan because of the move abroad. So, off to west first and then back to east. Talk to you later!!